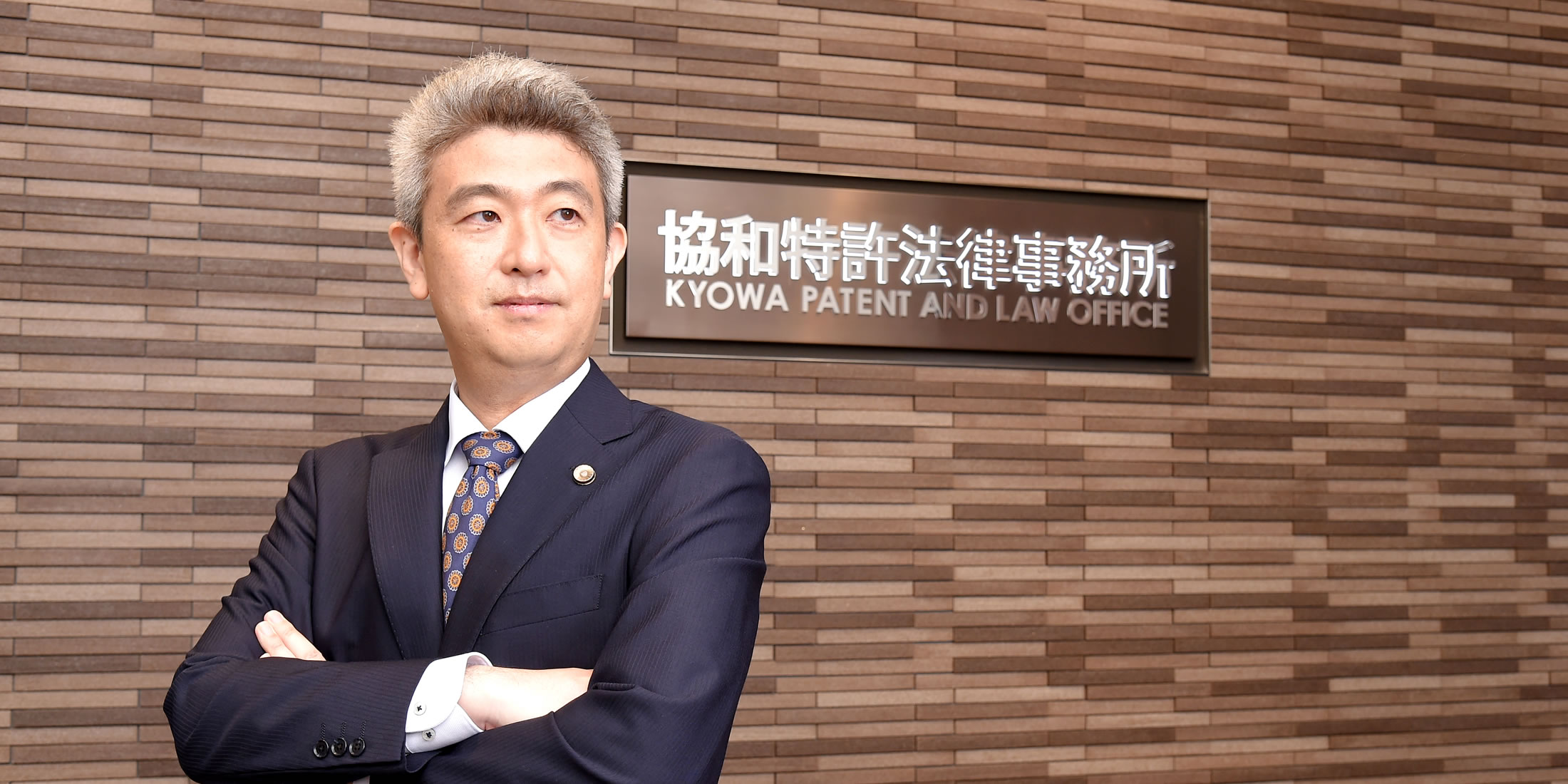 Greetings from the Managing Partner
Our organization has undergone some internal changes.

As of January 1, 2022, Kyowa Patent and Law Office is a partnership with one managing partner. I, Manabu Miyajima, would like to extend my most cordial greetings as the representative of our firm.

Since its establishment on September 1, 1908, Kyowa Patent and Law Office has strived to meet its clients' expectations by recruiting and developing professionals well versed in various specialties such as electricity, mechanics, chemistry, trademarks, designs, and litigations. As suggested by its name, Kyowa (harmonious cooperation in Japanese) has forged its path forward by working as a team, sharing expertise and experience toward common goals.

The world, and with it, intellectual property continues to change at an ever-accelerating pace in areas such as technological innovation, globalization, promotion of digital transformation (DX), and the application of artificial intelligence (AI). The unprecedented circumstances brought by COVID-19 are causing growing uncertainty about the prospects of society as a whole.

Even in such turbulent times, however, as a group of intellectual property experts backed by decades of experience and accumulated knowledge, we are confident that we will be able to keep meeting the expectations of our clients.

Without resting on the accomplishments of our predecessors, we are taking on new challenges, such as transitioning to a partnership model and reforming and enhancing our internal systems and infrastructure. Through these efforts, and by always actively recruiting outstanding talent, we strive to keep improving so that we may continue to be a patent and law office that brings together the best and the brightest, combining past traditions and new innovation.

We sincerely hope that you will continue to provide your support and guidance.
MIYAJIMA Manabu,
Managing Partner
Kyowa's logo

Our new logo is a visual expression of our hope for "The New Kyowa", as we it into a new era.
The logo is a stylized representation of the Chinese character, "協" (the "KYO" in Kyowa).
The red dot at the top of the "十" symbolizes a beacon of hope which will lead our "ship" toward new horizons.
In the wave of generational change in recent years, while remaining proud of, but not relying on its long-standing tradition, Kyowa Patent and Law Office will make a fresh start with its youthful partners at the helm while, amid the progress of technological innovation and changes in the state of global affairs, we will strive to make every effort to further improve our services, so we may meet our clients' expectations to the fullest. This is what gave shape to our new logo.